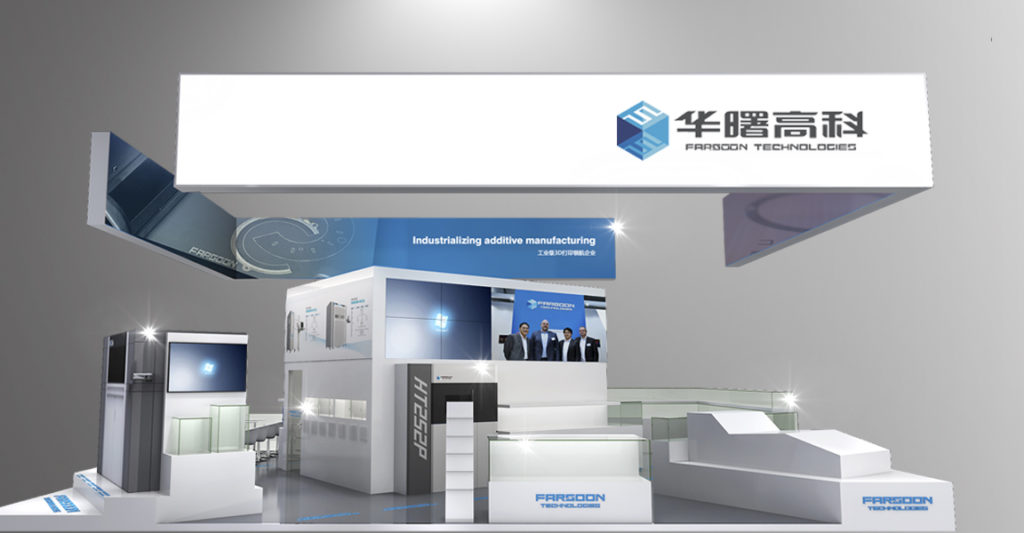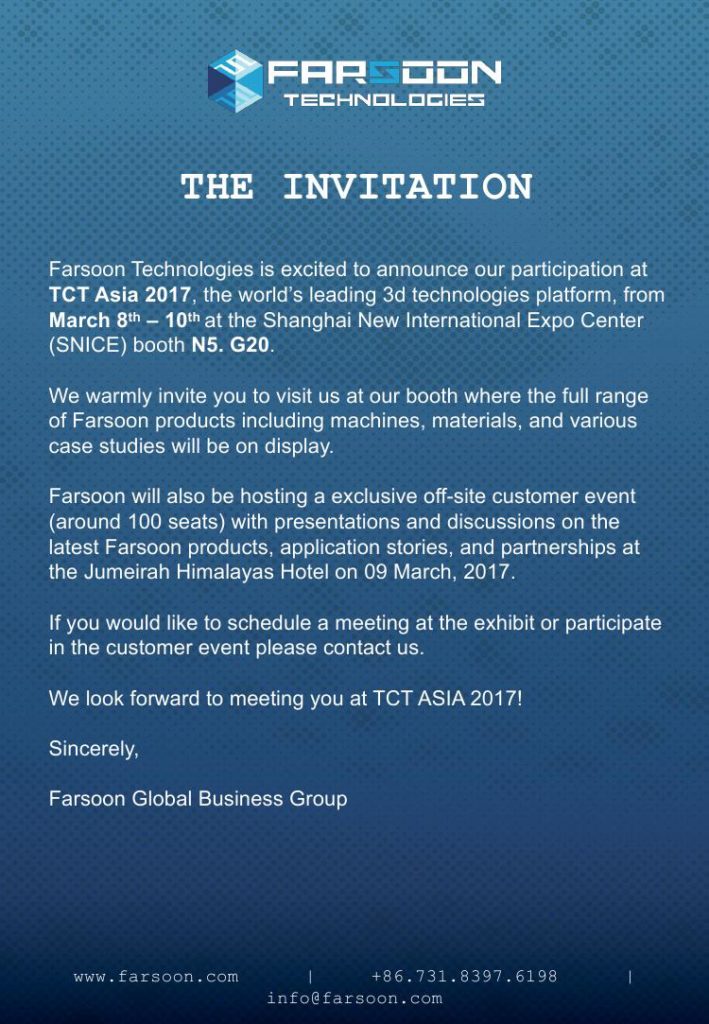 Dear Sir/Madam:
We sincerely invite you and your representatives to join us for an exciting and informative event in the additive manufacturing industry. Farsoon Technologies will be exhibiting at TCT ASIA 2017 to showcase our latest industrial additive manufacturing solutions from March 8th-10th, 2017 in Shanghai, China.
Farsoon's state of the art additive manufacturing systems including the all new 252P and 403P series polymer based sintering systems as well as the FS271M metals system will be showcased at the exposition. On display will be a full range of products from Farsoon including machines, materials, as well as various case studies produced on Farsoon machines.
Exhibit details:
Booth: N5.G20
Location: Shanghai New International Expo Center (SNIEC)
Date: 2017/03/08 – 2017/03/10
Meanwhile, Farsoon will hold an offsite forum (around 100 seats) with presentations and discussions on the latest Farsoon products, user experiences, and partner presentations.
Forum details:
Location: Jumeirah Himalayas Hotel Shanghai (No. 1108 Mei Hua Road, Pudong Shanghai 201204, China)
Date: 09 March, 2017 13:30-17:30 (Dinner time from 17:30 to 19:00)
Farsoon Technologies is looking forward to meeting you at TCT ASIA 2017!
Contributing to the group mission of accelerating the adoption of 3D technologies for design, development and manufacture across all industry sectors, TCT Asia 2017 delivers business-critical insights on 3D printing, additive manufacturing, CAD/CAE, metrology and inspection, as well as traditional manufacturing processes.
Farsoon Technologies is a total solution supplier of powder based selective laser sintering and melting. Farsoon boasts an integrated approach featuring expertise in both machine and material development and production. Founded in 2009, Farsoon's team has more than 20 years experience in laser and powder based additive manufacturing technology.
For more information please visit us at www.farsoon.com, or via email at info@farsoon.com.
Thanks & Kind Regards
Farsoon Global Business Group