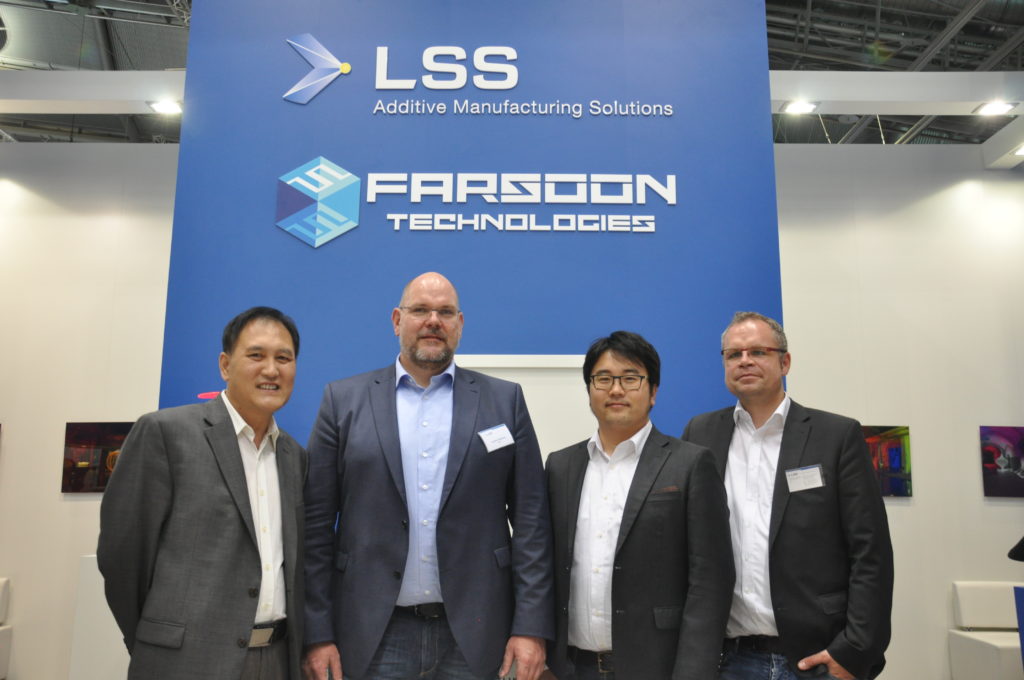 November 18th, 2016 Frankfurt Messe, at Formnext the premier European show for additive manufacturing Farsoon Technologies and LSS Laser-Sinter-Service GmbH have announced that they will form a strong partnership with the acquisition of significant LSS shares by Farsoon. By working together Farsoon and LSS will combine the extensive competencies each company has in the additive manufacturing field to strengthen their technology and service solutions.
 "I see this as a natural next step for our two companies. Over the past years Farsoon and LSS have fostered a very complimentary relationship. We are very happy to establish with LSS a strong setup for the European market and to seal our partnership which has grown to be more than just business partners", Dr. Xiaoshu Xu, Chariman of Farsoon Technologies, states.
"Having started as a service provider for Laser sintering equipment and being now a well-known solution development partner with an excellent reputation, we see with this significant investment and commitment from Farsoon, the chance, to grow LSS faster and expand our activities in Europe", Guido Elbrecht, CEO of LSS adds.
The two companies will now work to further develop their relationship. With LSS becoming Farsoon's European distributor and service arm as well as Farsoon's European R&D center.
FarsoonTechnologies is a total solution supplier of laser sintering and melting that was founded in 2009 by Dr. Xu Xiaoshu. Farsoon specializes in innovation and invests heavily in the R&D and manufacture of laser sintering equipment for PLS (Plastic Laser Sintering) and MLS (Metal Laser Sintering) as well as materials, rapid prototyping processing services, and laser sintering technical service support. Farsoon's experienced and innovative technical teams successfully developed China's first high-end plastic laser sintering machine. At the same time, Farsoon has also developed its own line of nylon materials becoming the world's sole manufacturer of both laser sintering equipment and materials.Farsoon aims to be a global player in the additive manufacturing field and is actively working to increase its footprint in the industry.
LSS has been operating for more than a decade as an independent, pan-European support and service provider in the field of laser sintering and stereolithography. Besides our support activities LSS delivers state of the art upgrades as well as customized solutions; distributes laser sintering &stereolithography materials and provides application support for any material. Furthermore LSS is supporting an open platform strategy for industrial 3D printers in the fields of PLS (Plastic Laser Sintering) and MLS (Metal Laser Sintering) technology. A strong network of material suppliers enables LSS to develop and deliver solutions which meet or exceed customer application requirements. LSS success is based on a highly motivated and flexibly acting team combined with solid technical experience in additive prototyping and manufacturing equipment.
Further information: www.farsoon.com www.lss-europe.com